This program is not at MBCC, but run through the Auto Labs at Edsel Ford and Fordson High Schools. Students at Dearborn High may take the class at Edsel Ford.
Instructors:
Marisa Reno (renom@dearbornschools.org) – Edsel Ford
Vincent Booker (bookerv@dearbornschools.org) – Fordson
Tarik Algharabli (alghart@dearbornschools.org) – Fordson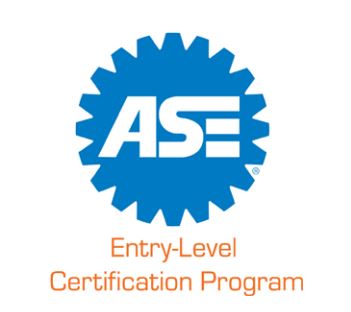 Students who complete the Deaborn Public Schools Automotive Technician Program (Auto Tech 1 – 5) wll take the ASE Entry Level Certification Test for:
Maintenance and Light Repair
Students may choose to take as many of the other ASE Entry Level Certification Tests as they choose:
Automatic Transmission/Transaxle
Automobile Service Technology
Brakes
Electrical/Electronic Systems
Engine Performance
Engine Repair
Heating and Air Conditioning
Manual Drive Train and Axles
Suspension and Steering
Alternatively, students may choose to take the corresponding Michigan Mechanics Licensing Exams.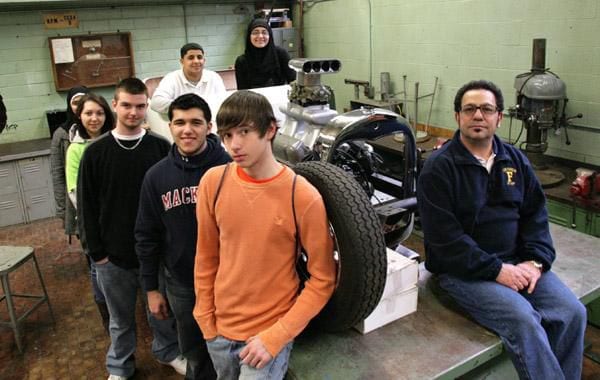 This three year program focuses on preparing students for careers automotive Maintenance and Light Repair It provides a sequence of learning experiences aligned to the National Automotive Technicians Education Foundation (NATEF). Students will prepare to take the Automotive Service Excellence (ASE) examinations and may sit for the Michigan Mechanic's Licensing exam upon program completion. Learning activities in the classroom and shop include automotive terminology, safety practices, tool identification and usage, and entry level skills in disassembling, assembling, inspecting, repairing and replacing components of various automotive systems. Detailed Course Descriptions are found below.

AUTO TECH 1, 2 Academy of Industry, Technology and Innovation
Auto Tech 1 is designed to introduce the student to the technology, safety, system and careers related to the engine and the automobile. Stressing theory and knowledge through readings and research this course is a required prerequisite to the other automotive courses.
Auto Tech 2 reinforces the knowledge acquired in Automotive Technology 1. Students have the opportunity to practice basic vehicle inspection and areas such as the electrical service and the servicing of the cooling system. (Recommended prerequisite: Auto Tech 1)
AUTO ENGINE ELECTRONICS 3 Academy of Industry, Technology and Innovation
This course will provide the student with advanced knowledge about vehicle electrical systems. Students will also gain experience diagnosing electrical system problems. Emphasis is placed on job level skill development and to assist the student in developing the ability to take the State of Michigan Auto mechanics Certification Test for automobile electrical repair. The duration of this course is two hours per day for one semester. (Recommended prerequisite: Auto 1-2)
AUTOMOTIVE ENGINE PERFORMANCE 4 Academy of Industry, Technology and Innovation
This course provides the student with the opportunity to develop the knowledge and skills to diagnose and service major internal engine performance problems including engine repair and diagnostics. Emphasis is also placed on developing the ability to take the State of Michigan Engine performance Certification Test. The duration of this course is two hours per day for one semester. (Recommended prerequisite: Auto 1-2)
AUTO BRAKES / STEERING TECH 5 Academy of Industry, Technology and Innovation
This course provides the student with the opportunity to develop the knowledge and skills to diagnose and service brake and suspension systems on passenger cars and light trucks. Emphasis is placed on job level skill development. This course will assist the student in developing the ability to take the State of Michigan Brakes and Suspension Mechanic Certification tests. The duration of this course is two hours per day for one semester. (Recommended prerequisite: Auto 1-4)
ADV AUTOMOTIVE SERVICE 6 Academy of Industry, Technology and Innovation
This course provides the student with the opportunity to develop hands-on experience simulating real-world employment in an automotive technology service facility. Employability skills as well as technical skills are emphasized. Diagnosis of drivability problems and review of instruction from previous courses are included. The duration of this course is two hours per day for one semester. (Recommended prerequisite: Auto 1-5)