Instructors:
Chef Karen Pokrywki : pokrywk@dearbornschools.org
Mia Joyce (Instructional Technician) : joycem@dearbornschools.org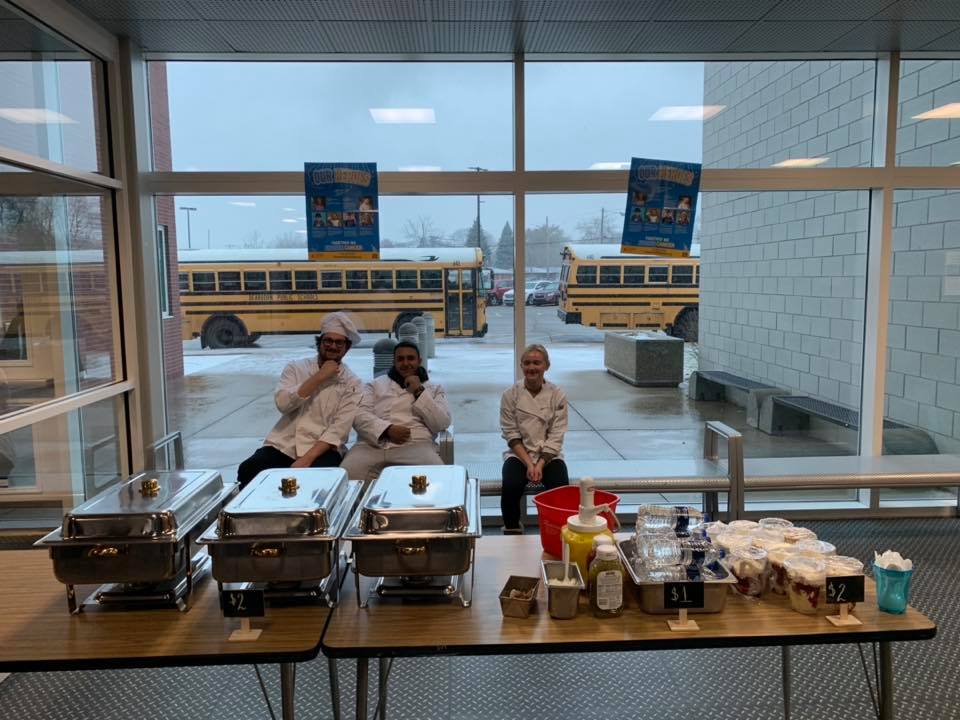 This program focuses on preparing students for management, marketing, and operation of restaurant and other food services; lodging, attractions, recreation events, and travel related services. Skills acquired in this program include operational and management skills; event planning and organization; customer service; aspects of the travel industry; food preparation; time management; communication; decision making; project management and entrepreneurship. SECOND- AND THIRD-YEAR STUDENTS ARE HIGHLY ENCOURAGED TO TAKE THE THREE-HOUR OPTION FOR THEIR ADVANCED COURSE, AS THIS WILL ALLOW THEM TO WORK IN THE STUDENT RESTAURANT DURING LUNCH HOURS, WHEN IT IS OPEN TO THE PUBLIC! Culinary Arts and Hospitality Careers course descriptions are found below.
Culinary Arts & Hospitality Careers Courses

Hospitality Studies
Adv Hospitality Studies (2hr)
Adv Hospitality Studies (3hr) – recommended

HOSPITALITY STUDIES Academy of Industry, Technology & Innovation
This full-year, two-hour block course provides an industry – driven curriculum that prepares students for a career in the restaurant & food service management. The curriculum provides the skills necessary to help prepare you to work in the hospitality industry including: basic food service skills & functions; full-service brigade; restaurant operations; catering services & bakery; communication & math skills health & safety practices. Students will assist with all aspects of the operation of a student-run restaurant, as well as various special project and catering events. Students may earn their ServSafe Safe Food Handler certificate. Students are encouraged to join and compete in SkillsUSA.
---
ADV HOSPITALITY STUDIES (two Hour Block) Academy of Industry, Technology & Innovation
This full-year course focuses on the management and operation a full service restaurant/catering operation while continuing to hone student's culinary and customer service skills. Management of first year students, budgeting, menu development and promotion are emphasized . Students may earn their ServSafe Safe Manager certificate. Students are encouraged to join and compete in SkillsUSA. (Prerequisite: Students must successfully pass Hospitality Studies I with a grade of "C" or better)
---
ADV HOSPITALITY STUDIES (three Hour Block) Academy of Industry, Technology & Innovation
This full-year course focuses on the management and operation a full service restaurant/catering operation while continuing to hone student's culinary and customer service skills. Management of first year students, budgeting, menu development and promotion are emphasized . Students may earn their ServSafe Safe Manager certificate. Students are encouraged to join and compete in SkillsUSA. (Prerequisite: Students must successfully pass Hospitality Studies I with a grade of "C" or better)